Premier Li Keqiang called for concerted efforts and consensus-building at the global level to attain parallel progress in COVID-19 containment and economic development.
He made the remarks at the Great Hall of the People in Beijing on Sept 15, when addressing the Special Virtual Dialogue with Global Business Leaders hosted by the World Economic Forum. The event was chaired by Klaus Schwab, executive chairman of the WEF, via video link, with nearly 600 business leaders attending the meeting.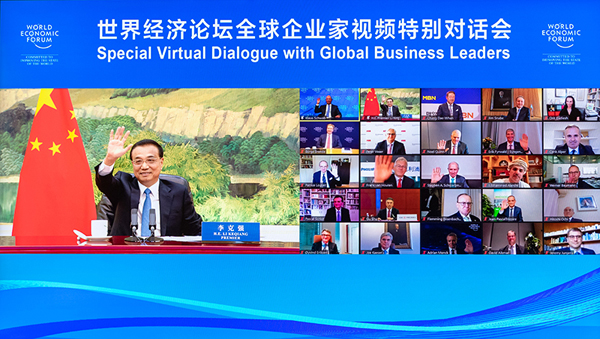 Premier Li noted the COVID-19 pandemic not only presents a serious threat to the life and health of people across the world, but also takes a heavy toll on the world economy. President Xi Jinping stressed that humanity is a community with a shared future, so solidarity and cooperation are required in coping with the pandemic and reinvigorating the economy.
China has managed to quickly bring COVID-19 under effective control while promoting economic and social development, and the economy has been on the upturn, with major indicators keeping a steady recovery in recent months, which reflects the great resilience of the Chinese economy, he said.
China has 120 million market entities, and its people are hardworking and full of wisdom. By supporting market entities, especially micro, small and medium enterprises, as well as self-employed individuals in a wide range of sectors, the country will achieve the target of creating more than 9 million new urban jobs this year, thus keeping the economic fundamentals and laying the foundation for future development.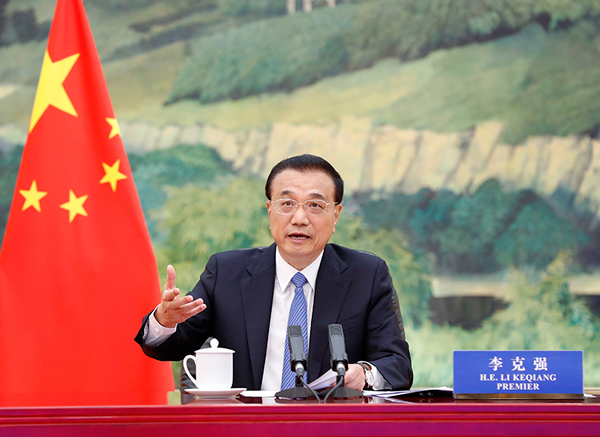 Premier Li said macro policies should effectively cushion COVID-19's impact and be sustainable. By building a mechanism in which newly-added fiscal funds are funneled directly to prefecture- and county-level governments and enterprises and people enjoy real benefits, related policies could be implemented in a timely and precise manner. As a result, employment, people's basic livelihoods and market entities can all be secured.
He also stressed the importance of deepening reform to delegate power, streamline administration and optimize government services, and of improving the business environment, in an effort to help enterprises get out of trouble and stimulate the vigor of market entities.
Premier Li said the Chinese economy continues to recover at a steady pace in June and August, suggesting the macro policies are yielding positive effects. However, it still faces global economic uncertainties.
While maintaining timely, strong and reasonable macro policies, the Chinese government will also focus on policy implementation and improving policy connotations to consolidate the upturn in the economy.
China's economy is expected to achieve its main goals and register positive growth this year, he said.
The Premier noted despite the profound and complex changes in the international environment, peace and development are still the main theme of the present era, and exchanges and cooperation remain the trend of the world.
All parties are duty-bound to support multilateralism, uphold international order and bring hope and confidence to people across the world, he said.
Although free trade will advance in twists and turns, its major direction will not change as the trend of economic globalization will remain the same, he said.
Joint efforts should be made to uphold trade and investment liberalization, and expeditiously restore the global industrial and supply chains to reinvigorate the world economy, the Premier added.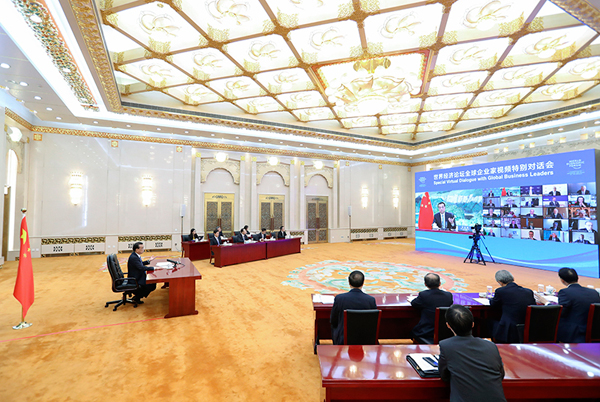 Noting the Chinese economy has been deeply integrated into the global economy, he stressed China cannot develop in isolation from the rest of the world, and the world also needs China for further development.
No matter how the external environment may evolve, China will resolutely open wider to the world, he said.
Taking the domestic economy as the mainstay while letting domestic and foreign markets connect and boost each other, China's new development pattern is an open dual circulation of domestic and foreign markets, which requires more work to attract foreign investment, develop foreign trade and lift China's opening-up to higher levels, according to the Premier.
As the world's largest developing country, China is now at a stage of further developing new industrialization, informatization, urbanization, and agricultural modernization, with huge domestic demands to be met, he said.
China will continue to ease market access, protect lawful rights and interests of foreign investment and build a market environment whereby domestic and foreign enterprises will be treated equally and compete fairly.
More green channels for personnel exchanges and customs clearance will be created to bring conveniences to enterprises' cross-border businesses, he added.
After delivering the speech, Premier Li also answered questions from enterprise representatives on international governance, global industrial chains and economic and trade cooperation.
He Lifeng, head of the National Development and Reform Commission, attended the event.